Our highly experienced Construction, Engineering & Power team provide a wide range of broking services to a diverse client base throughout the world. We deliver innovative comprehensive insurance programmes for capital projects under construction and operation or maintenance cover.
Our expertise
The dedicated team works with contractors, concession companies, owners, bankers/lenders/financiers, insurers and wholesale/retail brokers. Our focus is on developing long lasting relationships with clients by delivering compliant and creative insurance solutions.
The team has multi-lingual capabilities, handling insurances for a wide variety of international clients working throughout the world. Tysers has an excellent reputation for the highest levels of professionalism and integrity, combined with senior level attention to clients and relationships.
The risks we are able to provide solutions for include, but are not limited to:
Construction 'All Risks' (CAR)
Erection 'All Risks' (EAR)
Damage to Principals Existing Property
Contractors Plant and Equipment (CPE)
Third Party Liability/ Public and Products Liability
Project Professional Indemnity (PI)
Consequential Loss – Delay in Start-Up (DSU) & Business Interruption (BI)
Civil Engineering Completed Risks (CECR)
Decennial Insurance
Bonds
The construction, engineering and power risks we are able to provide solutions for include, but are not limited to:
Telecoms
Electronics
Power plants
Transportation & Logistics
Large commercial property portfolios
Industrial/Manufacturing
Mining/metals
Pharmaceutical and chemical industries
Financial Institutions
Engineering
Food Production/processing
Renewable energy – wind, solar, sea
Hotels & Leisure
Warehousing
Public and private utilities (power, water, telecommunications)
Pulp and paper manufacturers
Textiles
Organic and inorganic chemical production
Automobile manufacturers and component services
Hospitals
Multinationals
Ports & Terminals
In addition to the above, we also have expertise in the following areas:
Catastrophe programmes: flood, earthquake, windstorm
Facultative support for (re)insurers
Deductible buybacks
Alternative risk transfer
Captive reinsurance
Global programmes
Lenders Due Diligence
Binding authority contracts
Claims management & advisory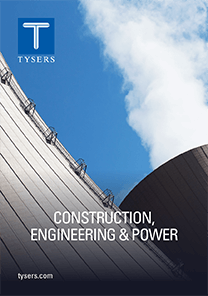 Tysers – Construction, Engineering & Power